Zdenka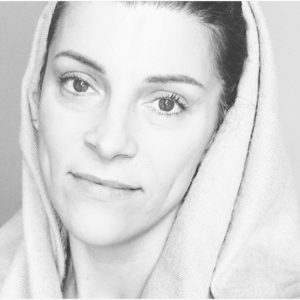 (Satya Simran Kaur) is a registered Yoga Alliance Teacher (500 E-RYT), Founder of Yogic Life and Yogaroom. Ambassador of Yoga science, Honesty, Hard work, Progress and Love. Originally from Belgrade Serbia based in The Netherlands and has walked long distances in finding the essence of this beautiful dance called life. "Who am I, Why am I here? Where am I going? What is Love? What is happiness? …are some big life questions in us searching for answers…Yoga has always intrigued me, in my study I fell and still keep falling in love with yoga more and more each day. It opens my world, my heart, it opens every other part of my being and I keep learning alot about myself. I have learned that discipline, practice, progress and kindness bring awareness of a being in every possible way. There are just few things in life that we can't control and there are just few things that we really need. Everything else is just matter of hard work, focus and honesty.  Yoga philosophy brought everything in connection with my own logic, it feels like everything is clear, grounded and peaceful and at the same time there is so much more to learn. As a teacher, I intend to inspire and train people to develop themselves to best possible version of themselves. I intend to be a tunnel in giving what I have and still receive from my teachers. There is actually no yoga style in my experience. Yoga is a technology that helps in a personal development. I teach from and to the heart, connecting the outer yoga of posture and breath to the inner yoga of concentration and meditation. There is alot that I want to share with you!" Love, Zdenka
---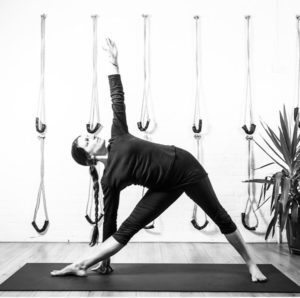 Sarah Jane Rawkins. My first experience with Yoga was during a trip to Thailand in 1997. The very first class completely inspired me and sparked a deep interest in the subject of Yoga which still continues to grow. I spent many years following many different styles of yoga with different teachers internationally.I particularly loved the precision, integrity, authenticity and serious disciplined approach of the Iyengar system of Yoga.The attention to detail, alignment and subtilties of asanas and pranayama inspired me to follow the 3 year Iyengar Teacher Training program in the Netherlands which I completed in 2007. I have followed classes and workshops with senior teachers in The Netherlands, Australia, Canada, United States, England. I have been several times to study in India and I have been 3 times to the Iyengar Institute in Pune India to study directly with the Iyengars.I love to teach others and share my passion for Yoga. I have been teaching regularly in the Netherlands since 2006.I have taught workshops in England, Northern California, Prague , Glasgow, Portugal and Crete.  I continue to further my studies of the subject, working with the Iyengar Teacher Certification system.I received Intermediate Junior 11 in 2013 and will continue to work towards higher levels of practice and teaching. I am currently following a 3 year therapeutics course to be able to teach and apply the therapeutic attributes of Iyengar yoga to help and guide people with injuries, illness or physical limitations. Yoga is a life long journey of exploration which is ever evolving. The more you learn, the more there is to learn, penetrating deeper levels of your self, your life, and your understanding. I love to share what I have learnt and wish to light the spark of inspriration in others.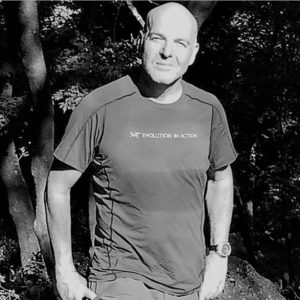 Mijn naam is Willem Reitsma – Ik maak graag uitdagende reizen in de bergen en in de woestijn, maar ik vind het ook fijn om even bij te tanken en rust te vinden met een retreat. In 2013 ben ik, op latere leeftijd, lessen in yoga & meditatie gaan volgen. Dit heeft mij tot nu toe veel moois gebracht en dat wil ik graag delen met anderen in de vorm van korte verhaaltjes over mijn ervaringen met yoga en meditatie. Dat kan iets moois zijn wat ik heb beleefd of iets wat mij bezig houdt en wat stof tot nadenken geeft, voor mij persoonlijk of als inspiratie voor anderen.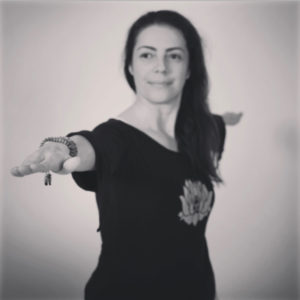 Luz Dary Schilt has been practising yoga for more then 15 years and qualified in the USA with YogaFit. After moving to the UK, she trained with Birthlight and started teaching hatha yoga and prenatal/postnatal yoga. Luz also has done an intensive teacher training of 750+ hours in the tradition of Sri T. Krishnamacharya in India, whilst she was living in China. Both, Birthlight and the Krishnamacharya tradition, has helped her to bring together all that the 'eight limbs of yoga' has to offer. This holistic approach gives her students a deeper knowledge of the foundational philosophy of yoga, the asanas and the wisdom to connect to the female body. Luz Dary has a very specific intention when she teaches her yoga classes, to respect and honour everyone's unique journey in life. Her travels have broadened her perspective about life and helped her relate more deeply with her students. So her students can balance their lives more deeply while releasing tension from the body, balance hormones, and learn to connect with their inner wisdom.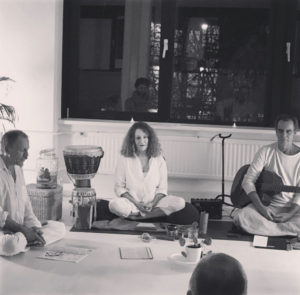 Yvonne, Wu Wei en Shanto zijn onze Bhakti Yoga inspiratie. De ervaring zegt genoeg over ze. Het zingen van 'devotional songs' afkomstig uit diverse windstreken en culturen, afgewisseld met periodes van stilte. Open en toegankelijk voor iedereen ook als je niet wilt of kunt zingen. We zitten op de grond in een kring en de zang wordt begeleid met gitaar muziek. Je mag zitten maar ook liggen of dansen als dat zo voelt. Je hebt je ogen gesloten of open. In de stilte sta, zit of lig je stil. Ervaring is niet nodig. Het kan al 'up lifting' zijn om er gewoon bij te zijn!