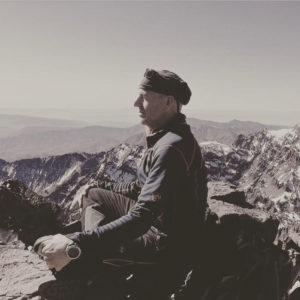 In the autumn of 2004 I went on an unforgettable group walking tour in Jordan. During the hike through the desert and mountains we usually slept outdoors under the stars, together on a large rug with mattresses. Wild camping but without a tent. We would get up before dawn and in the morning twilight we would set off through the rugged mountains and the desert. By the end of the morning, when it got too hot to continue walking, the cook travelling with us was waiting for us with a delicious vegetarian lunch in a shady spot. After lunch and siesta the backpack went back on and we hiked for a few more hours to the next camping spot. By then we had less than an hour left until it got dark. In that spare hour I usually went to explore the area around our camp. Sometimes I would clamber up a challenging rock alone or with a walking buddy to watch the setting sun.
I remember one time I was sitting alone on a sandstone rock, overlooking a beautiful view of the wilderness. I closed my eyes, I felt the sun on my skin, and the warm air I inhaled through my nose felt a little cooler when I exhaled. As I sat there quietly, my thoughts wandered to our youngest son Jesse who had died in the spring. Jesse was still just an adventurous toddler with cheeky eyes. The loss of Jesse was only a short time ago and the sadness was still so deep within me. I don't know if there is a heaven or an afterlife, but for me it is as if Jesse's soul has merged with the sun. On top of that rock in the desert, it was as if Jesse was very near and I felt an enormous peace coming over me that I hadn't felt before.
I don't know how long I sat there in silence on that rock. When I opened my eyes Nadia, a travelling companion, was sitting a few meters away from me. She said she thought it was a nice place to meditate and asked me if I enjoyed my meditation. Insecurely I answered, "Meditate? I'm not really sure how to do that'. At that time I was still unfamiliar with meditation and what it meant exactly. But Nadia told me that she had seen me sit in deep peace and she thought I was in deep meditation. I said that I had been just sitting there quietly with my eyes closed, feeling the sun and the warm wind on my skin and that beautiful thoughts had passed by. "Do you do this more often?" she asked. And I answered that on trips like this I usually search for a nice place to sit peacefully for a while, sometimes with my eyes closed.
The desert still holds a great attraction for me, and after Jordan I visited the desert more often. Deserts are inhospitable, bone-dry with a searing heat and often freezing nights. But with its vast emptiness it also holds a magnificent beauty:
High sand dunes that are always in motion and mighty rock formations with a brilliant palette of colors created by the brilliance of the sun. Few plants and animals can survive in the desert, but as you pass through the desert you discover how much beauty lives, grows and even blossoms. That together with its vast expanse makes you speechless.
Ruim 8 jaar na mijn reis in Jordanië begon ik met het volgen van yogalessen. Zdenka wees me de weg op het pad van spiritualiteit en leerde me kennismaken met diverse soorten van meditatie. Yoga en meditatie heeft me tot nu toe veel gebracht: ik leerde te kijken naar mezelf, om van mezelf te houden en mezelf te accepteren zoals ik ben en het leven zoals het is.
Achteraf besef ik hoe bijzonder en mooi dat moment was, daar op boven op die rots in de woestijn, met Jesse zo dichtbij.
More than 8 years after my trip to Jordan I started taking yoga classes. Zdenka showed me the way on the path of spirituality and introduced me to various forms of meditation. Up until now yoga and meditation have brought me a lot: I learned to look at myself, to love myself and to accept myself as I am and life as it is.
In retrospect, I realize how special and beautiful that moment was, up there on the top of that rock in the desert, with Jesse so very near.
Tips for meditation
Meditating is simply being, in the here and now. It's a good way to tune in to your inner peace and to deal with stress and tension.
There are countless ways to meditate and there are all kinds of reasons to start: to relax for example, to come to yourself and to deal with (negative) emotions.
Find a quiet place where you can sit undisturbed in easy pose, on a chair or in any other way that feels comfortable for you.
Sit relaxed and upright. Not too tight, not too loose. Close your eyes and breathe in deeply and breathe out slowly a few times. This will automatically allow you to relax more deeply. Your attention remains clear and alert.
You are quiet and calm, meditate without expectations, you don't have to do anything. Focus your attention on your breathing, count the inhalation and exhalation, or repeat a mantra inside your mind.
When you notice that you are distracted, let go of the distractions and bring your attention back to the breath and the here and now.
In meditation you observe your thoughts without judging them: this is how you try to get to your true essence.
'The desert is so huge, and the horizons so distant, that they make a person feel small, and as if he should remain silent' Paulo Coelho – The Alchemist